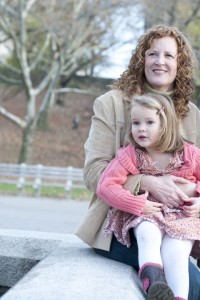 I am a girl.  I am a mother of a girl.  I am a child of the 1980's, and I'm pretty sure the experience of being a girl then bears only a distant relation to the experience of being a girl today.  When we came home in the afternoon, there was no way to interact with other kids unless you were talking on a phone that was anchored to the wall in your mother's kitchen. We couldn't buy things without going to the store.  We watched TV in the family room.  We  taped music we liked off our favorite radio stations…with a boom box that plugged into the wall.  I am pretty sure it's different now. I'm interested in this.
I think there's lots to learn about how we can help our girls become their best selves.  I'm trying to learn it.
I am a reader. I am a writer. I am a New York City actress. I am a nerd.
I am a player of games.  I am a watcher of movies.  I am concerned about the environment and how our consumption of products and foods impacts it.  I am opinionated.
I have ideas about girls and raising girls and what kinds of things we give them to read, to wear, to watch and and to play with.  I want to share the things I find that excite me.  I want to learn more about what's out there.
I want to enter into a dialogue with mothers of girls about how to navigate girlhood in this twenty-first century.
You in?
Disclosure: Often I receive products or tickets to events to review.  If I come across something I think our girls will benefit from, I'll share it with you.  I'll always let you know if I received the product or tickets for free and I assure you that absolutely no one influences my opinions about anything.  I'll also disclose if any posts are sponsored or compensated by an outside company. 
Please email me for ad rates, sponsorship information or product review and giveaway information.