These days, fairies are all the rage. My little fairy princess is smitten with the wee folk, and over the years I've caught glimpses of lots of wonderful new fairy toys…moments before they disappeared under toadstools or dissolved into misty dews. If you're very quiet and don't make any sudden moves, this post may be visible to you.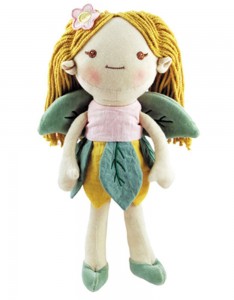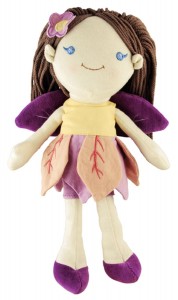 Meet the My Natural Good Earth Fairies from MiYim. Made with natural cotton, stuffed with recycled filling, and packaged in a reusable cardboard box…they really are good fairies. These plush dolls are soft, snuggly and adorable.
Your little one will dance at dawn with the sprites in this enchanting Rainbow Fairy Dress by Sarah's Silks. Just be sure to remind her she can't come out of her room until 7 am.
Weave the silk-like threads through the cards to embellish these Fairies of the Field Lacing Cards by eeBoo. Adorable graphics. A fun, quiet activity that encourages hand-eye coordination.
I love Playmobil. And the Playmobil Fairy Garden Set is adorable and reasonably priced. Fairy Birthday Party here you come!
Every fairy needs a home. Building a fairy house with your wee gal is a wonderful way to while away the afternoon…but if you want one to keep, consider a fairy house from Etsy Seller Bonny Baby. Enchanting.
And imagine her surprise when your little one wakes to find her very own fairy at the foot of her bed. My favorites are hand-felted, waldorf-inspired fairies from Etsy sellers like Art of Felting, Willowpoppy and Magic Wool.
Come up here, O dusty feet!
Here is fairy bread to eat.
Here in my retiring room,
Children, you may dine
On the golden smell of broom
And the shade of pine;
And when you have eaten well,
Fairy stories hear and tell.
Robert Louis Stevenson